"Travel is a state of mind. Any place you go to has great people and great experiences."
~ Samantha Brown

Subscribe Now!


My conversation today with Samantha Brown.
Samantha is a TV host and travel expert who spent more than 10 years with the Travel Channel hosting shows such as Greatest Hotels, Girl Meets Hawaii, Passport to Europe, Passport to Latin America, Green
Getaways, Passport to China, Great Weekends and Samantha Brown's Asia.
She's visited over 250 cities in 62 countries and 40 in the United States.
What you'll learn about Samantha is that she has an endlessly curious mind and a genuine interest in the locals wherever she finds herself. As you'll hear in our conversation, she loved the work that she did with the Travel Channel and the encounters she had during filming but often the most meaningful experiences (for her) got left out of the final version of those shows.
When she left the Travel Channel, she decided (quite boldly, I might add) that she would follow her passion and put her talents and interests to work by creating a series that features those encounters that she enjoyed most. The ones that got left out of the shows airing on the Travel Channel.
That's where Samantha Brown's Places to Love comes in. The first of her 13-part series aired on PBS on January 8th. So you can now catch these on your PBS channel or online (see links below).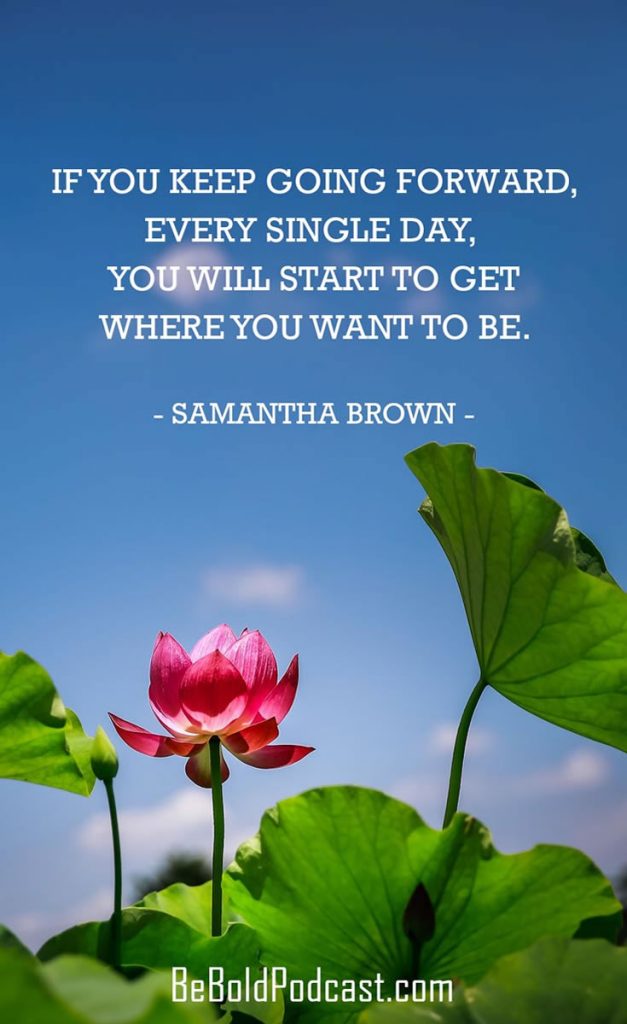 Samantha and I met up at the San Diego Travel and Adventure Show where we both spoke at the event.
During our conversation, we talked about her new series and how and why it came about but we also veered into other topics including the practicalities of her travels now that she's married with children. We also talked about how, as someone who really loves her alone time, she has a secret weapon to recharge. And that's particularly important for someone who has so many demands on her during filming.
Throughout our conversation you'll hear her wonderfully poignant stories that helped shape who she is as a person and traveler.
You'll also hear answers to questions from Be Bold Podcast listeners.
And I can say, yes, she is as chipper in person and during our conversation as she appears to be on television and during her speaking gigs.
With that, enjoy this conversation with Samantha Brown.
Connect with Samantha
Mentioned in this episode
Places to Love (Episodes)
Calm (meditation app)
Headspace (meditation app)
Connect with me
You can friend me on Facebook and follow me on Instagram. Ladies, join our Be Bold Facebook community where you'll find support, encouragement and inspiration from other women doing their best to Be Bold.
Enjoyed this episode? Tell a friend!
Be Bold,
Beth