"In our quiet moments, if we're willing to be honest with ourselves, we know the thing that we want to do." Nicole Antoinette
Subscribe Now!


My conversation today is with Nicole Antoinette.
Nicole is the host of the wildly popular podcast, Real Talk Radio with Nicole Antoinette. I've listened to this for years and have always appreciated her honesty, her forthrightness and ability to get to the heart
of a matter. In the process you know she's going to have a really strong opinion about a topic. And that's what I love that about her.
She's the kind of person whom you imagine spends a lot of time giving really quality thought to pretty  much everything she does. There's no ambiguity and, as she talks about here, when she makes a decision, she makes a definitive decision. There's not a lot of wishy washy.
Nicole's not one to be afraid to change direction, to be influenced (at least too much) by what people think or say. She is who she is and doesn't make an apologies about it.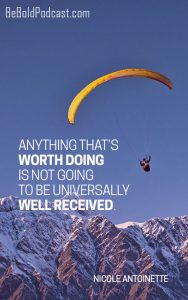 A week prior to us recording, she had returned from an 800-mile, 44-day solo hike on the Arizona Trail. So we talked about that experience including the fears that come with being a woman doing a seemingly scary hike like that and also how she manages that much time away from her husband.
She was pretty offline when the whole #MeToo meme was at its height but we get into that a bit as well.
In this conversation, Nicole talks about what she observes as the reason many people are afraid to commit to a decision and also her ongoing search for figuring out how to close the gap between saying what we want and actually doing it.
Please enjoy this conversation with Nicole Antoinette.
Connect with Nicole
Mentioned in this episode
Real Talk Radio with Nicole Antoinette
Picky Bars
Connect with me
You can friend me on Facebook and follow me on Instagram. Ladies, join our Be Bold Facebook community where you'll find support, encouragement and inspiration from other women doing their best to Be Bold.
Enjoyed this episode? Tell a friend!
Be Bold,
Beth