"Being bold means moving forward and taking that step forward even when you're afraid of what's going to happen and you're fearful of what could potentially go wrong in taking that step forward but you do it anyway." ~ Sapana Chadra
Subscribe Now!


You're going to love this conversation with Sapana Chandra.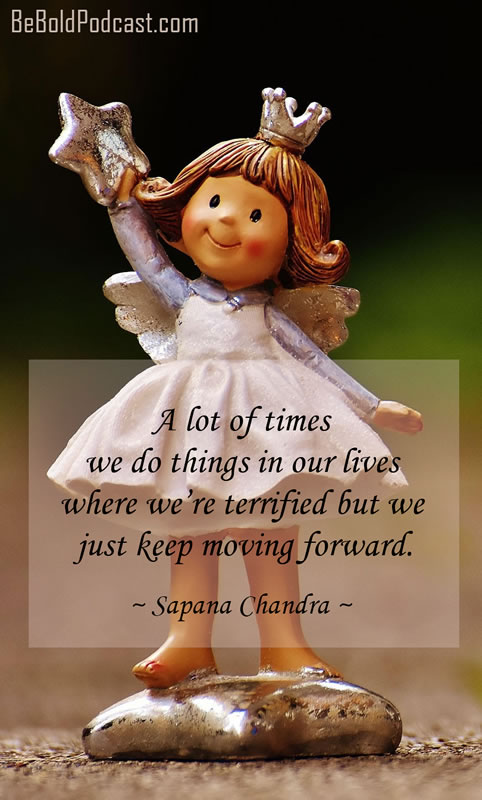 Sapana is a healthy food and lifestyle blogger at Real + Vibrant which is dedicated to supporting people in living their healthiest life.
She's a certified holistic health coach and food photographer with a focus on plant-based nutrition and holistic wellness. She also happens to have over 99,000 Instagram followers.
Her work has been featured in Thrive Magazine, Clean Eating Magazine, MANTRA Yoga + Health, and her photos have been featured on major social media accounts including Whole Foods, William Sonoma, Cooking Light, SELF, MindBodyGreen and the Huffington Post.
I first came across Sapana when I was paging through Thrive Magazine which is a magazine focused on plant-based living including food, of course. I saw a large spread of Sapana's photos from her Instagram account and was wow'd! The article happened to mention that Sapana lives in Seattle which so excited me. I couldn't wait to have her on the podcast to talk her plant-based Instagram account, her lifestyle and her business as a wellness coach.
I found this conversation to be really inspiring. Sapana has a really compelling story about how she came to a plant-based (a.k.a. vegan) lifestyle after growing up vegetarian. During our conversation, she talks about how she went from having anxiety and migraines–and how no doctor could find a way to relieve those migraines–to becoming healthy and now thriving, all by changing her diet and through juicing.
By the way, she's got great tips on some of the best products for making smoothies and juices, how to shop for produce so it doesn't break the bank and also the benefits of making smoothies over juicing.
We also talk about her work as a wellness coach and how the accountability factor is so important when making goals and trying to live a better life.
She wraps up the conversation with one great tip for your first step toward eating healthier.
We covered a lot of products, books and other podcasts and you can find links to those below.
Enjoy my conversation with Sapna Chandra!
Connect with Sapana
Real + Vibrant website | Instagram | Facebook | Twitter
Mentioned in this episode
Goal Digger (podcast)
Rich Roll (podcast)
Wellpreneur (podcast)
Rhonda Patrick (podcast)
Fat, Sick and Nearly Dead (movie)
The Omnivore's Dilemma by Michael Pollan (book)
In Defense of Food by Michael Pollan (book)
The China Study (book)
Omega Slow juicer
Vitamix
Maca powder
Acai powder
Ashwagandha powder
Adaptogens (wikipedia)
Connect with me
You can friend me on Facebook and follow me on Instagram. Ladies, join our Be Bold Facebook community where you'll find support, encouragement and inspiration from other women doing their best to Be Bold.
Enjoyed this episode? Tell a friend!
Be Bold,
Beth